John's Profile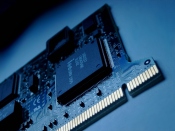 John is the owner and chief editor of Combibo Communications. He enjoys computers, working on cars, and has a great appreciation for the importance of learning.
Location: USA
John's Recent Articles
Replacing a Serpentine Belt Tensioner Assembly on a 2004 Toyota Camry
Posted Under:
Automobiles
Removing a broken tensioner assembly on a 2004 Toyota Camry is not very difficult, but you do need to raise the engine to get to one of the bolts. The tensioner assembly holds the drive belt, or serpentine belt, in place, driving the alternator, Air Conditioning, and other components. A diagram for the serpentine belt is also included in this how to guide.
Cleaning the MAF Sensor and Replacing O2 Sensor on Mazda B4000
Posted Under:
Automobiles
When the check engine light comes on, a dirty Mass Air Flow Sensor or bad Oxygen Sensor is a common cause. Checking and cleaning a MAF Sensor can save several hundred dollars and is very easy. Replacing a bad Oxygen Sensor is also a quick fix
How to Raise Chickens for Eggs
Posted Under:
Nature and Science
Raising your own chickens can be very rewarding. If done correctly, you will receive a regular supply of fresh eggs, which do not compare to the store bought eggs. The eggs are very nutritious and great for baking, but best of all you know exactly what the chickens are fed and how they are raised. It is easy to quickly get to the point where you have more eggs than you can use. When raising chickens for eggs, it is important to understand how chickens lay eggs and how to correctly harvest and use them.
Danish Students Allowed to Use Internet During Final Exams
Posted Under:
Business
Denmark has long been a leader when it comes to Universal Healthcare and employment, as well as having a very strong education system. Now, they are again leading the pack by allowing students to use the Internet during their final exams. This represents a very real grasp of the true role of higher education in the 21st century and how the real world actually works.
Will China Honor its Pledges to Dramatically Reduce Their Carbon Footprint?
Posted Under:
Nature and Science
Prior to the Copenhagen Climate Change Conference in December 2009, China pledged to drastically reduce their carbon foot print by 2020. With the controversy that surrounds the Chinese manufacturing industry, as well as the fact that many feel the Copenhagen Conference did not set the bar high enough, it remains to be seen whether China will make an effort to honor this goal.